---
---
Commercial architecture design can play a major role in brand perception and shaping the client experience. Partnering with an architect who pays close attention to the details can make a major difference in your next project.
Through our years as commercial architects, we've placed great emphasis on placemaking, focusing on the "in-between" areas and the finer details. In other words, placemaking is what sets an astounding commercial space apart from all the rest.
Here's why that's important and how it plays into the benefits of architectural design.
Table of Contents
Immerse People in a Memorable Space
Modern branding goes beyond logos and color schemes—it means putting the customer experience front and center. When working with commercial architecture, there's a unique opportunity to shape the customer experience in a face-to-face, immersive environment.
For commercial spaces, placemaking is crucial to designing an environment that feels cohesive, artful, and memorable. It's powerful enough to turn an average building into something that draws people in and makes them want to return. That's why, whenever we work on a commercial project, we always ask ourselves, "How can we make this place unique and special—not just for the client, but for the people who will be here every day?"
If you had to sum this concept up in one word, we'd use the term "harmonious." By understanding how the inside and outside work together, by thinking about a project in its greater context and the community around it, we can perfect the small details that many architects don't know how to approach.
Create a Landmark Attraction
A great example of placemaking at work can be found in the office buildings we designed on Olympus that welcome you into Cypress Waters. Thanks to thoughtful design inside and out, these buildings complement the city so well, but they also stand out like an art installation, making an impression on everyone who drives by.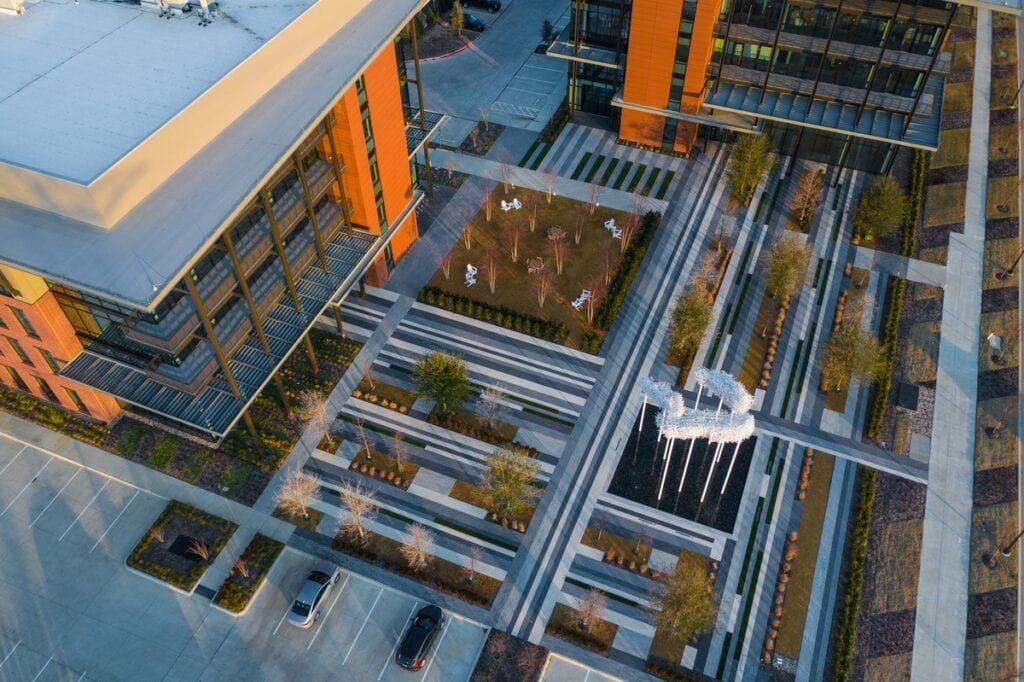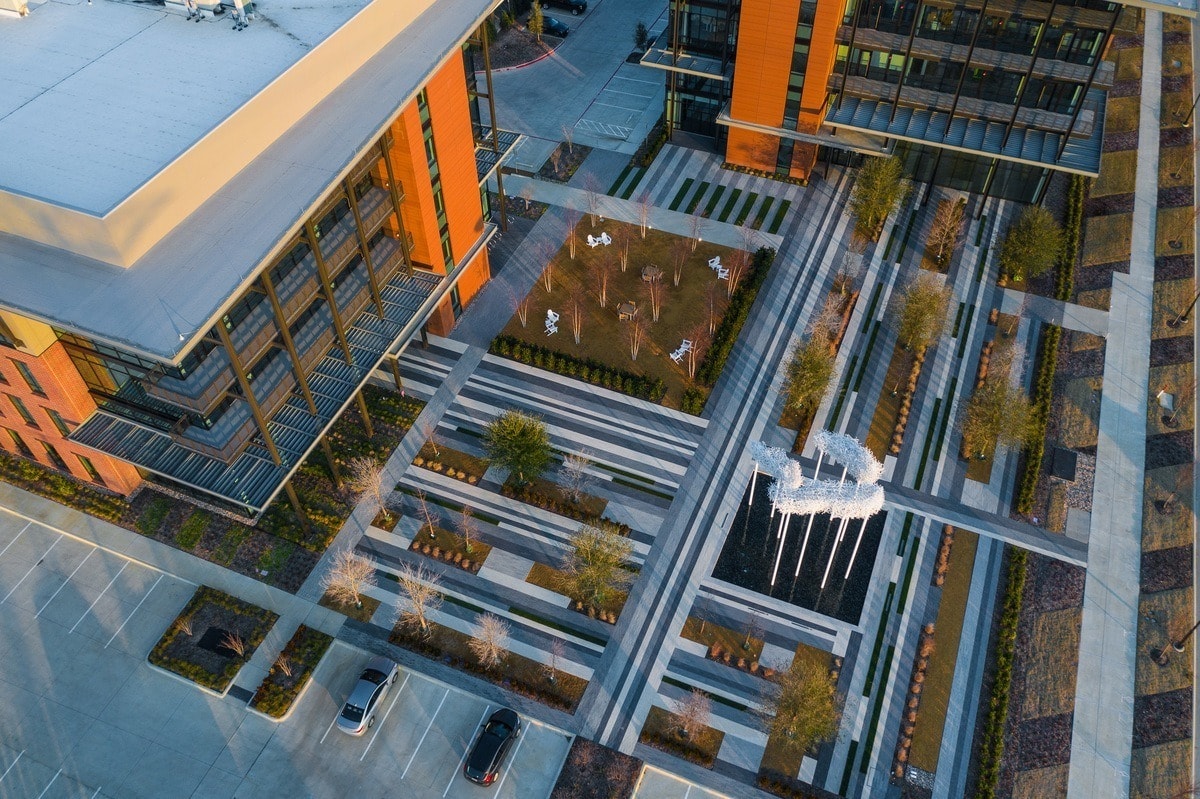 One thing that makes these buildings so unique is the offset lobby. Instead of going for the typical central location, we placed the lobby on the corner where it intersects the outdoor plaza, creating a bold entryway. Art flows down the wall, bleeding out into the plaza where it weaves together with the buildings, truly connecting inside and out.
The thoughtful design of this project and its lobby creates an intersection that captures the attention of passers-by while welcoming employees and visitors into its doors.
Find Opportunities to Align and Enhance
A major benefit of working with a team of architects who appreciate little details is that they can take something mundane or unattractive and turn it into an enhancement.
One example is our use of custom perforated metal panels, which doubled as a facade while secretly screening the unappealing utility meters and other unappealing details. Paying attention to these things empowers experienced architects to make unwanted details completely disappear while enhancing the space simultaneously.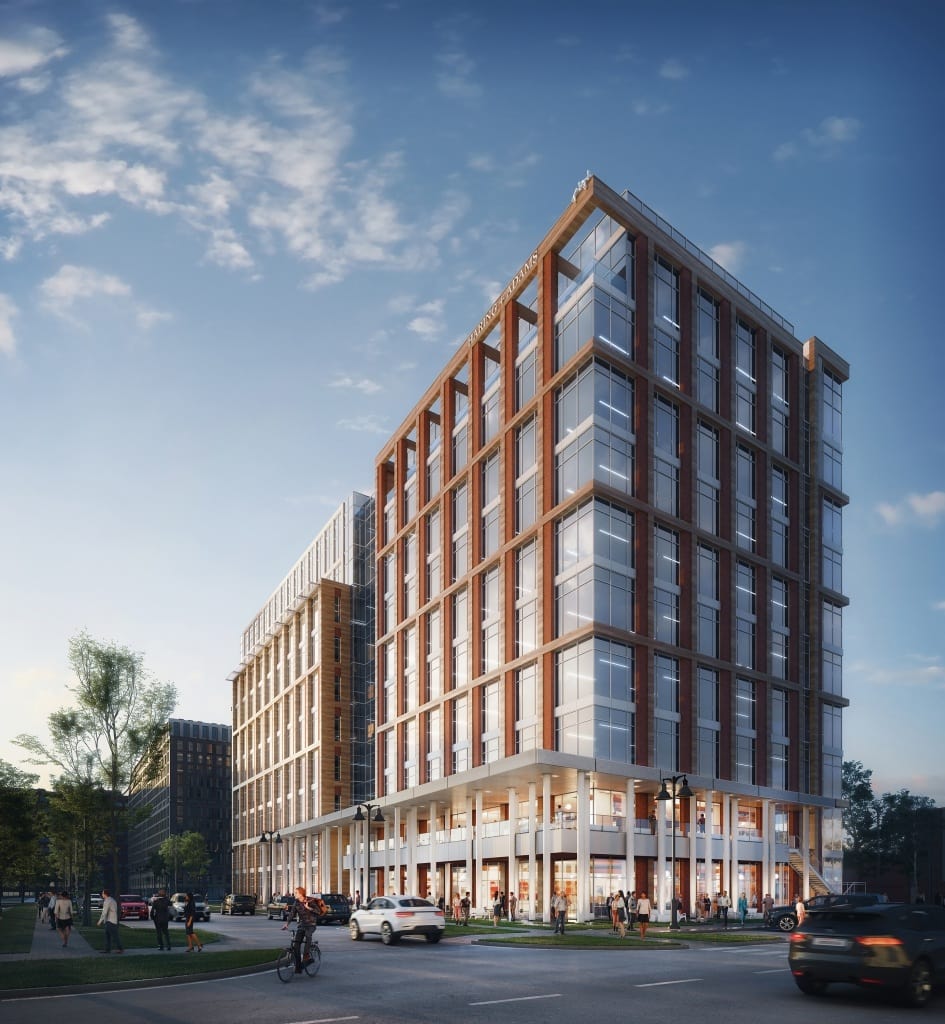 Similarly, we never compromise on alignment as we feel it's key to a harmonious design. That means the seemingly small things, like air vent slots and elevator doors, are never overlooked. Making sure that everything fits together, down to the smallest detail, is crucial to achieving balance and beauty.
Improve Marketability
Considering all of the harmonious benefits of commercial architecture design, they all add up to one more: Marketability. The average person might accept an exposed electric panel, but they don't prefer it. So, these enhancements are crucial points of focus when it comes to improving leasing and the end client's experience.
Paying attention to the smaller details creates value that anyone can recognize. Going beyond that to not just "cover up" unattractive features but turning them into something artful creates intangible value by developing an artful and memorable atmosphere.
Let's Build Your Brand Together
Creating exceptional experiences starts with a trusted advisor who maximizes every opportunity to create memorable moments. Our team at O'Brien embraces a collaborative design approach that is open, interactive, and imaginative.
To us, realizing your vision takes more than a process and result. It takes a team to guide the journey and form relationships along the way. Let's build your brand together.