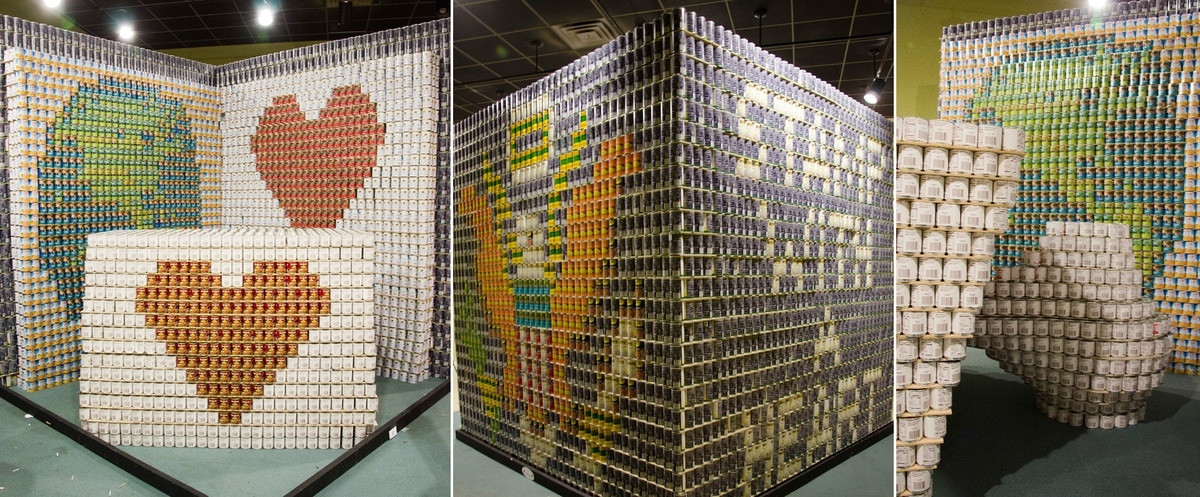 This year O'Brien Architects, Hill & Wilkinson, and Henderson Engineers collaborated on the sculpture for the 2015 State Fair of Texas CANstruction competition. The theme this year for CANstruction was "Passport to End Hunger" and what better way to address this theme with our "Stamp With A Heart" sculpture. The sculpture is made of 13,000 plus cans that contain a variety of tomato sauce, peas, beets, asparagus, mandarin oranges, other vegetables and a ton of white hominy! Our design was dreamed up by Rick Eicher of Henderson Engineers and Amador Saucedo of O'Brien Architects. The idea was to create a "heart stamp" that was the centerpiece of the sculpture and to have the American Passport as a backdrop for the stamp showing how Americans always travel with kindness and love.
This year we had many obstacles that we encountered on build day, such as additional boards needing to be cut, no a/c or fans available at start time, and last minute adjustments made to the sculpture and support boards. However, we were able to overcome all of these obstacles with the help of our amazing team captains and their teams: Chris Smithhart (O'Brien Architects), Courtney Kearney (Hill & Wilkinson), and Carol Saucedo (Henderson Engineers) A special thanks to all of the O'Brien Architects team members that showed up on build day: Matt Crowley, Jourdan Neustadt, Geoffrey Brown, Andrew Finney, Vania Franco and Daniel Hernandez.
The "Stamp With A Heart" sculpture is currently on exhibit in the Science Building at the State Fair of Texas. Make sure to stop by and check it out!